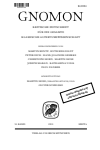 Graziano Ranocchia, Kilian Josef Fleischer: Dionysios von Alexandria, De natura (περὶ φύσεως). Übersetzung, Kommentar und Würdigung. Mit einer Einleitung zur Geschichte des Epikureismus in Alexandria. in:
Gnomon , page 497 - 504
Abstract
As a critical journal for all classical studies, the GNOMON fosters the links between the distinct classical disciplines. It has thus an exceptional position among the classical review journals and allows familiarization with research and publications in neighbouring disciplines. The reviews address an international readership from all fields in classical studies. The GNOMON publishes reviews in German, English, French, Italian and Latin.
The GNOMON is published in eight issues a year.
Zusammenfassung
Der GNOMON pflegt als kritische Zeitschrift für die gesamte Altertumswissenschaft die Verbindung zwischen den verschiedenen Disziplinen der Altertumswissenschaft. Er nimmt dadurch eine Sonderstellung unter den Rezensionsorganen ein und bietet die Möglichkeit, sich über wichtige Forschungen und Publikationen auch in den Nachbarbereichen des eigenen Faches zu orientieren. Die Rezensionen im GNOMON wenden sich an ein internationales Publikum, das aus allen Teilgebieten der Altertumswissenschaft kommt. Die Publikationssprachen im GNOMON sind: Deutsch, Englisch, Französisch, Italienisch und Lateinisch.
Der GNOMON erscheint acht Mal im Jahr.