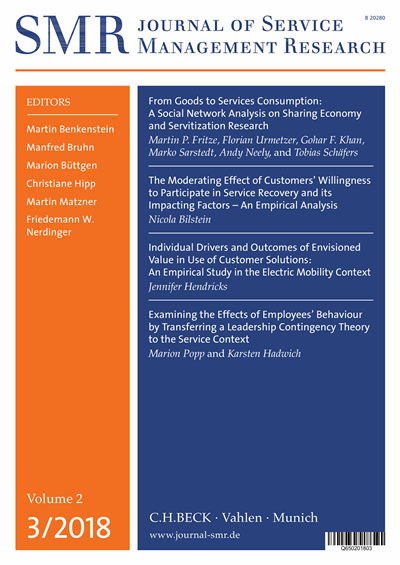 Martin P. Fritze, Florian Urmetzer, Gohar F. Khan, Marko Sarstedt, Andy Neely, Tobias Schäfers, From Goods to Services Consumption: A Social Network Analysis on Sharing Economy and Servitization Research in:
SMR - Journal of Service Management Research , page 3 - 16
Abstract
SMR is a platform for the academic dialog between service researchs from different economic disciplines. It offers critical depictions of the newest developments in the central areas of service research. Thereby SMR dedicates itself particularly to interdisciplinary research agendas.
For more information for authors and subscribers, see rsw.beck.de/zeitschriften/smr.
Abstract
The transition from consuming goods to consuming services is a topic of great interest for service researchers and has been examined from various perspectives. We provide an overview of how this field of research has been approached by systematically analyzing the current state of the academic literature. We report the results of a social network analysis of the sharing economy and servitization literature, which reveals the structure of the knowledge networks that have been formed as a result of the collaborative works of researchers, institutions, and journals that shape, generate, distribute, and preserve the domains' intellectual knowledge. We shed light on the cohesion and fragmentation of knowledge and highlight the emerging and fading topics within the field. The results present a detailed analysis of the research field and suggest a research agenda on the transition of goods to services consumption.