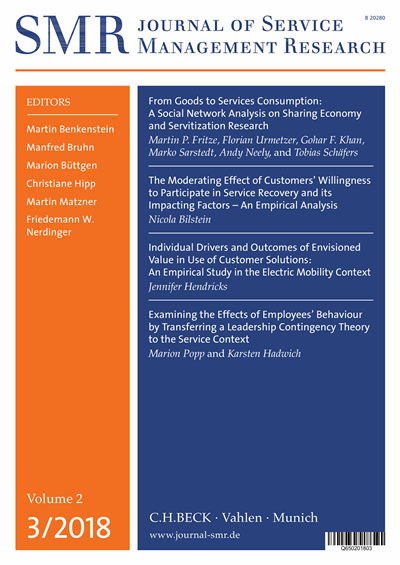 Nicola Bilstein, The Moderating Effect of Customers' Willingness to Participate in Service Recovery and its Impacting Factors - An Empirical Analysis in:
SMR - Journal of Service Management Research , page 17 - 29
Abstract
SMR is a platform for the academic dialog between service researchs from different economic disciplines. It offers critical depictions of the newest developments in the central areas of service research. Thereby SMR dedicates itself particularly to interdisciplinary research agendas.
For more information for authors and subscribers, see rsw.beck.de/zeitschriften/smr.
Abstract
Prior research cites customer participation in service recovery (CPSR) as a meaningful strategy to ensure post-recovery satisfaction or repurchase intentions. However, recent studies raise doubts about the generalizability of its unconditional positive effect, suggesting the presence of moderating factors. With an explorative, qualitative study, this article considers customer participation willingness in service recovery as moderator. It also identifies six factors likely influencing customers' willingness to participate in recovery and in turn affecting the strength and valence of the relationship between CPSR and post-recovery evaluations. For example, by changing customer participation willingness in service recovery, the factors of responsibility for a third person and domain-specific expertise influence the strength of this underlying relation; the possibility to influence the recovery result even may flip its valence. These results offer new insights for managers to assess situations in which CPSR is likely to be appropriate and thus to create more effective service recovery processes.
Durchsuchen Sie das Werk
Geben Sie ein Keyword in die Suchleiste ein