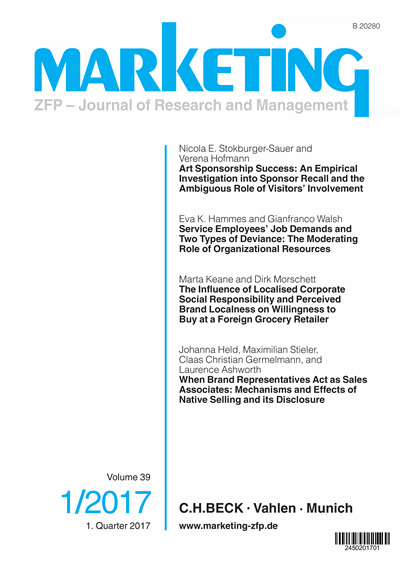 Marta Keane, Dirk Morschett, The Influence of Localised Corporate Social Responsibility and Perceived Brand Localness on Willingness to Buy at a Foreign Grocery Retailer in:
Marketing ZFP , Seite 27 - 43
Abstract
Marketing ZFP is a platform for the academic dialog between marketing science and marketing practice. It offers critical depictions of the newest developments in the central areas of marketing science and marketing practice. Thereby, Marketing ZFP dedicates itself particularly to the transfer of methodological knowledge into practice.
Articles published in Marketing ZFP are peer-reviewed and written in either German or English. English abstracts are available for all articles.
The scientific quality of Marketing ZFP has been ranked highly: In the VHB-JOURQUAL Ranking of the German Association for Business Research, the journal is listed among the top five German journals in business research. In GeMark, the German Marketing-Journal Ranking, it is listed in category B.
For more information for authors and subscribers, see www.marketing-zfp.de.
Abstract
To be successful, foreign retailers must meet the expectations of local consumers and they must also position themselves as strong retail brands. This may be difficult because foreign firms often face competitive disadvantages in comparison to local counterparts. This disadvantage may be partly attributed to consumers' perception of foreign companies as part of an out-group. The study investigates whether consumers' willingness to buy from a foreign grocery retailer is affected by their perception of both localised corporate social responsibility activities and of perceived brand localness. Scholars rarely focus on localised corporate social responsibility activities in the retail context, which in practice are not uncommon. Moreover, scholars often focused on the effects of perceived brand globalness but rarely paid attention to perceived brand localness. In addition, because it is likely that both of these appeals differ depending on consumer groups, we question how consumer ethnocentrism affects the above-mentioned relationships. Therefore, the study investigates whether localised corporate social responsibility activities and perceived brand localness influence consumers' willingness to buy from a foreign grocery retailer, and whether these influences interact. The study also analyses the moderating role of consumer ethnocentrism. To elucidate these issues, three experiments were conducted, using a cumulated sample of 984 US respondents. The experiments were based on a fictitious foreign grocery retailer to avoid consumers' pre-existing knowledge of the retailer and pre-existing brand familiarity. The results suggest that both appeals positively impact consumers' willingness to buy. This indicates that retail managers should actively communicate localised corporate social responsibility activities and should invest in building a local brand identity using emotional anchors localised to the domestic market. Contrary to the proposed hypothesis, the interaction between localised corporate social responsibility and perceived brand localness is negative, implying that retail managers should strongly focus on one of the two dimensions rather than trying to satisfy both dimensions without full success. Consumer ethnocentrism was found to increase the effect of localised corporate social responsibility but not of perceived brand localness. Therefore, ethnocentric consumers who perceive that the retailer positively influences the domestic economy and local society are more willing to buy from this foreign retailer, meaning that localised activities can help overcome ethnocentric consumers' preferences against buying from foreign stores.
Durchsuchen Sie das Werk
Geben Sie ein Keyword in die Suchleiste ein